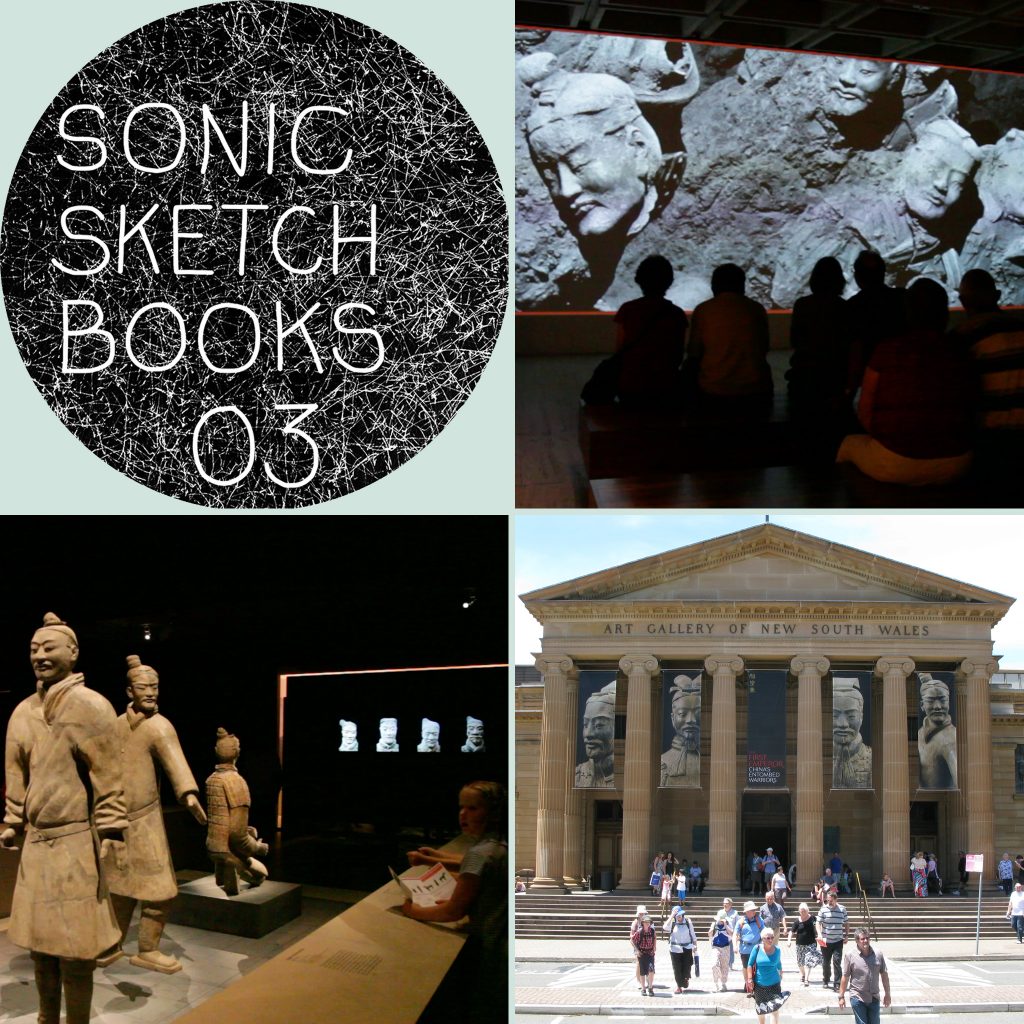 release date: 19 january 2021
listen on soundcloud

exhibition soundscape "The First Emperor"

Xi'an, Shaanxi province, China, is the site of ongoing work of archaeology, conservation and exhibition of the extraordinary relics of first emperor Qin Shihuang (259–210 BCE). This episode presents excerpts from a soundscape I developed for "The First Emperor – China's Entombed Warriors", a significant exhibition staged in 2010 at the Art Gallery of New South Wales in Sydney, Australia.

Then-director Edmund Capon invited me to develop and create the exhibition's multimedia elements. In addition to video projections and screens, we envisaged an atmospheric soundscape for the main exhibition hall where the two-thousand-year-old life-size terracotta warrior figures were to be displayed.

The soundscape uses two distinct types of sound – ambient compositions by artist and musician Ian Hamilton who I invited to collaborate on the project, and short, suggestive field recordings I made from source material provided by a China-based cinematographer.

These two sets of stereo tracks played simultaneously and unsynchronised from four speakers high in the corners of the two-storey space, ensuring always unpredictable combinations of music and field recordings.

Ian developed his contributions from recordings of traditional Chinese instruments, ancient bronze bells, and a Taoist ceremony in a remote mountain village.  He manipulated and transformed these found sounds to shape slowly evolving musical sequences, alternating quieter openness and louder complexity. And his sounds move spatially through the stereo field, drifting around the listener.

To accompany and complement Ian's music, I prepared excerpts from field recordings representing the elemental forces of fire, water, air and earth – rustling bamboo, forests at night, wind over sand, rainfall, insects and native birds.

In combination, the sounds provide a subtle cinematic register to the listening and viewing experience.

The original soundscape tracks were close to an hour's duration. This episode's 20-minute example includes two of Ian's ambient tracks in full, accompanied by a randomised selection of my field atmospheres.

In late 2018, the Museum of New Zealand Te Papa Tongarewa in Wellington, commissioned me to create new large scale video projections for the entrance to their exhibition Terracotta Warriors: Guardians of Immortality. And our multi-speaker soundscape was again used in the main exhibition hall.
episode 03 track list:
timings rounded to closest 5 second interval

02:55 – 26:15
soundscape for main exhibition hall of 'The First Emperor: China's Entombed Warriors' Art Gallery of New South Wales, Sydney 2010 – excerpt

END