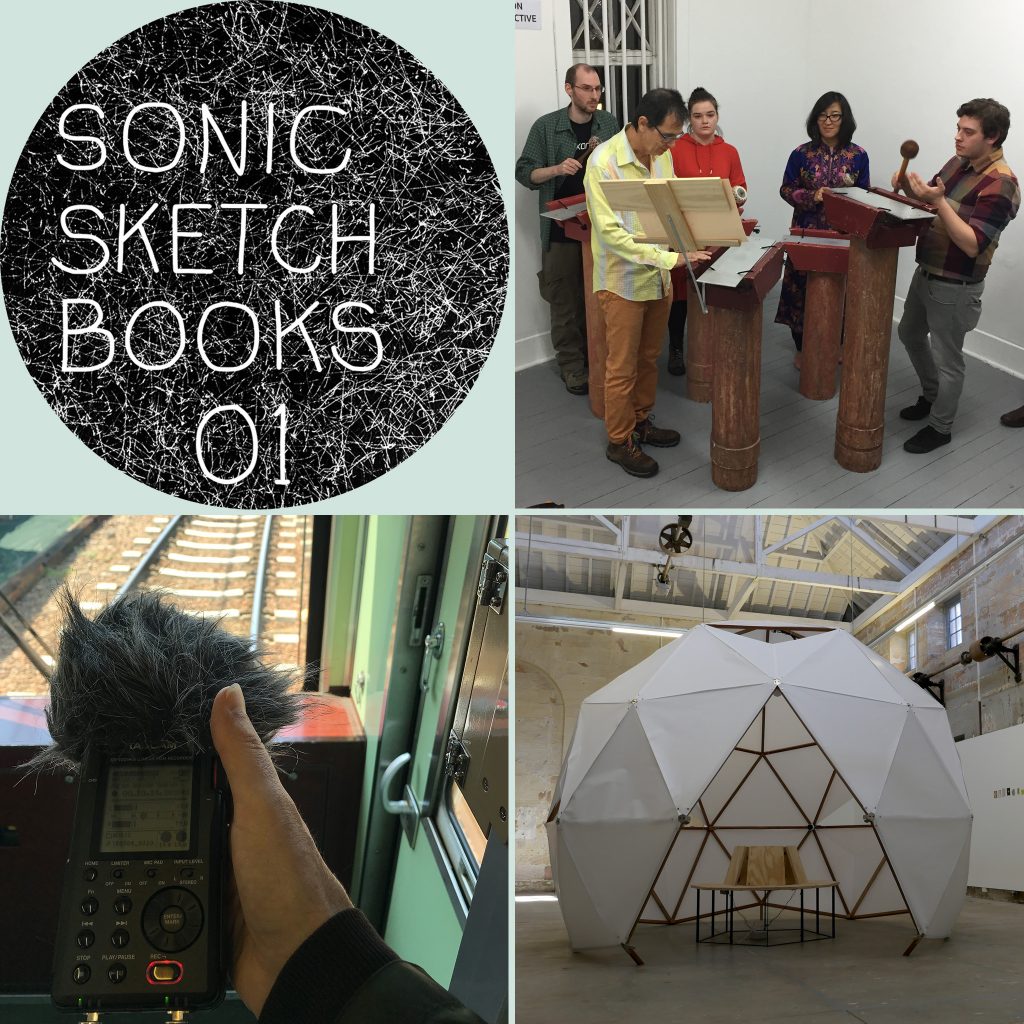 release date : 05 january 2021
listen on soundcloud
episode 01

The first episode of the Sonic Sketchbooks podcast is a rhizomatic composition of excerpts from upcoming episodes, an introduction to some of the types and uses of sound explored in the podcast series.
The following playlist includes notes about the sequence of sounds, and the episode from which each is derived. More information about each episode will become available at the time of the episode's release.
playlist for sonic sketchbooks episode 01
timings rounded to closest 5-second interval;
compositions, artworks and field recordings by Gary Warner unless otherwise noted
01:25 – 02:35
field recording of A Quivering Marginalia, an installation by Gary Warner and Jon McCormack at the University of Sydney College of the Arts Gallery, 07-30 July 2016
– Ep 10
02:30 – 03:05
interview with Professor Jon McCormack, Zoom, 07 July 2020 – Ep 04
03:05 – 03:55
soundtrack to Eden, a digital interactive installation by Jon McCormack – Ep 04
03:50 – 05:10
exhibition soundtrack for An Ecology of Aleatoric Drawings, Stacks projects, 2018
– Ep 07
05:00 – 06:50
field recording of frog pond at Ryoan-ji, Kyoto, 16 May 2017 – Ep 13
06:50- 07:05
Clocks and Clouds performing, Newtown, Sydney, 20 July 2019 – Ep 09
07:05 – 08:20
Untitled Intuitions, a sound art composition – Ep 06
07:55 – 09:50
field recording at Origma Reserve, warm, overcast, still, 4pm 24 November 2019 – Ep 12
09:45 – 11:00
05 July 2020 – Jeff Doring narrating while listening to audio he recorded in 1971 at Obeimi, New Guinea – Ep 14
11:00 – 13:05
Nagra field recording 'Biami Music 30' by Jeff Doring, Obeimi, New Guinea, 1971 – Ep 14
13:00 – 14:45
exhibition soundtrack for The First Emperor: China's Entombed Warriors, AGNSW 2010 – a collaboration with Ian Hamilton – Ep 03
14:40 – 16:05
field recording – Keihan Line subway approaching Demachi-Yanagi station, Kyoto, 2015
– Ep 13
16:00 – 16:30
Clocks & Clouds performing at the Ort Festival, SNO Contemporary Art Projects, Marrickville, Sydney, 05 May 2017 – Ep 09
16:25 – 17:25
exhibition soundtrack for An Ecology of Aleatoric Drawings, Stacks projects 2018 – Ep 07
17:25 – 18:35
recorded rehearsal for performance at Servo, Port Kembla, 24 August 2018 – Ep 08
18:30 – 19:45
Soundtracker, installed in the Single Man's Hut, Bundanon, 9 April – 7 May 2017 – Ep 11
19:45 – 21:20
interview with Clocks & Clouds: Kraig Grady and Terumi Narushima, Unanderra,
05 November 2020 – Ep 09
21:10 – 23:00
Clocks and Clouds performing at the International Memorial Day for Lost Species salon event at Articulate project space, Leichhardt, 30 November 2019 – Ep 09
22:40 – 25:55
exhibition soundtrack for The First Emperor: China's Entombed Warriors, AGNSW 2010 – a collaboration with Ian Hamilton – Ep 03
25:45 – 27:30
Soundtracker, installed at ES74 Gallery, Alexandria, 17 November 2016 – Ep 11
27:10 – 29:20
field recording of water running in a hillside gutter at Jakko-in, Ohara, Japan,
28 July 2015 – Ep 13
28:00 – 29:20
Barbara Campbell playing Dream by John Cage, Camperdown, Sydney,
09 February 2015 – Ep 05
END