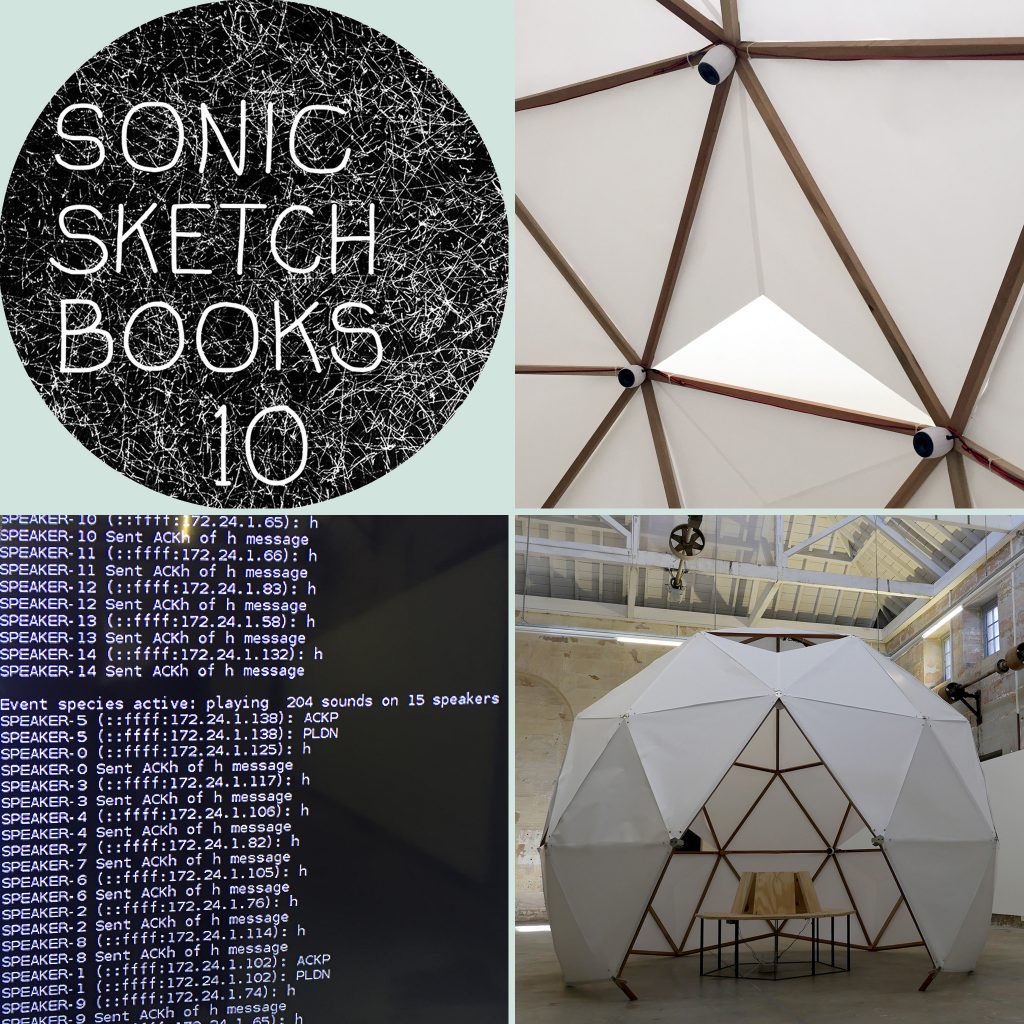 release date: 09 march 2021
listen on soundcloud

a quivering marginalia
This episode presents audio documentation of a multi-speaker installation made in collaboration with fellow artist Jon McCormack.
A free-standing 4-meter wide timber geodesic dome is skinned with white Japanese shoji paper. Visitors enter the dome to sit at a 5-sided bench seat with 15 speakers arranged in a hemisphere above and around them. Two empty triangles provide views outside the dome, in the manner of a bird hide.
I derived the sounds heard in the dome from an online resource of biologists' field recordings, carefully extracting and dissecting the spoken-word tape IDs usually considered only of technical interest for researchers – observations of behaviour, records of time, date, place, species, etc. The recordists were dedicated people, usually alone, often isolated in remote wilderness, using technological aids to listen to and archive sounds made by animals with the intention of contributing to scientific knowledge.
My interest is in the poetic potential of this vocal marginalia to creatively explore a largely unattended record of human engagement with the natural world.
The hundreds of vocal fragments were tagged in thematic groupings of date, place, description of action, species naming, and so on. Jon and his team developed a custom-written software to replay randomised selections from this audio-clips library, with randomised spaces of silence between files and randomised assignment of sounds to any speaker in the 15-unit array.
The listening experience is like being in a hide in a forest where birds and other animals' voices have been substituted by human voices declaiming in unpredictable combinations just as ecosystems full of animals do.
Selections from my long-form field recordings of Australian bush locations played quietly in the dome, a nuanced sonic bed for the spoken word elements.
This episode is an unedited recording made in-situ at the University of Sydney's College of the Arts Gallery where the work was installed in the exhibition 'FIELDWORK: Artist Encounters' that I curated in 2016.
Fran Dyson's essay about 'a quivering marginalia'.
'a quivering marginalia' was supported by a grant from the Australia Council for the Arts, the Australian Government's arts funding and advisory body.