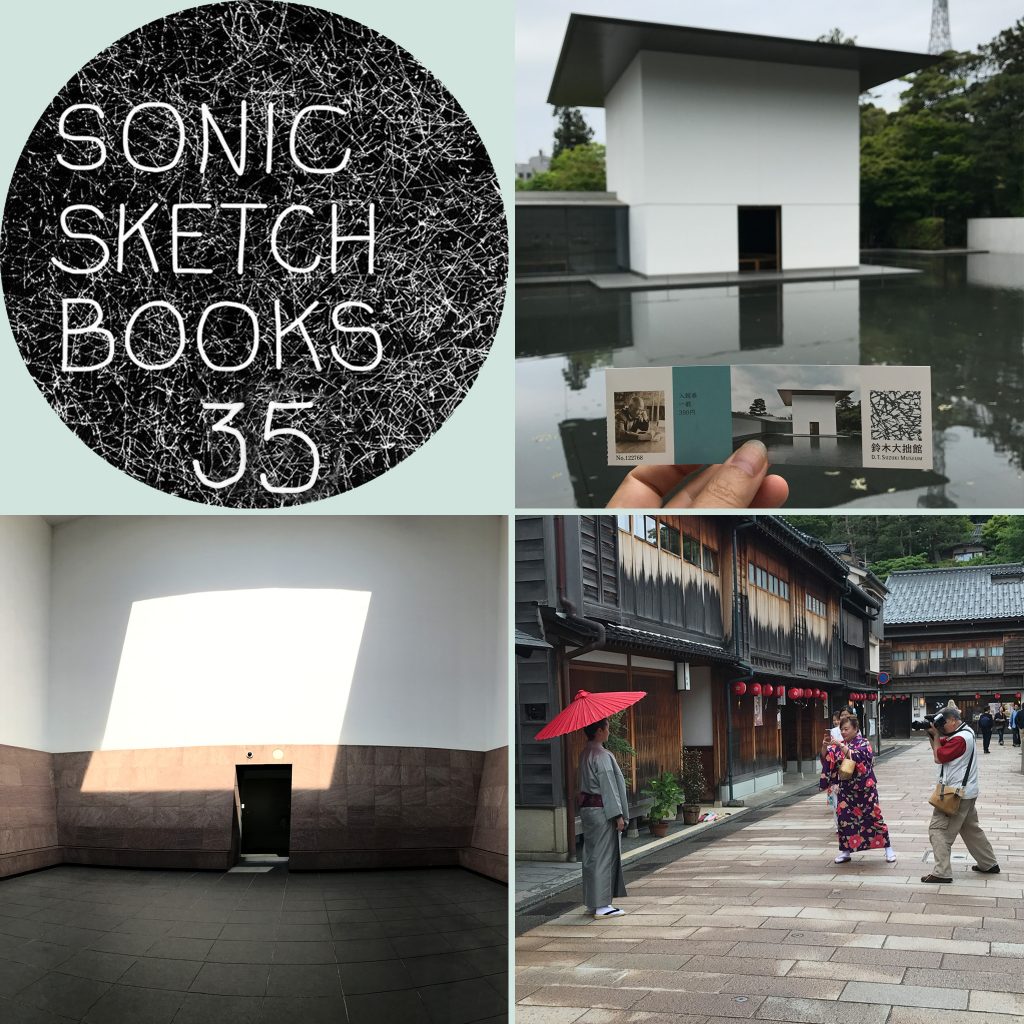 release date: 31 august 2021
listen on soundcloud

This week's episode is a quiet, contemplative piece that arose from re-listening to recordings I made on the 25 May 2017 during a day of wandering in Kanazawa, an important cultural town on the west coast of Honshu Japan, about equidistant from Tokyo and Kyoto.

I went there to visit two museums and a garden – the 21st Century Museum of Contemporary Art designed by Japanese architects SANAA, the DT Suzuki Museum, and the famous Kenrokuen Garden, its name reflecting the six characteristics of this centuries-in-the-making stroll garden – spaciousness, seclusion, artifice, antiquity, water-courses and panoramas.

The SANAA-designed museum contains a permanent open-roofed interior room-space by James Turrell – an empty space to quietly sit and observe the changing light, air, sound and visitor responses punctuated by the opening and closing of glass sliding doors.

The DT Suzuki Museum celebrates this critical figure in the transmission of Buddhist, particularly Zen, philosophy, thought and practice from the east to the west in the 20th century. Situated at the base of a forested hill, the museum features a contemplation pavilion situated as an architectural island in a large shallow reflection pool.  The triple height room is empty but for a square arrangement of cushioned benches where visitors can sit and gaze on the water through open rectangular apertures in the huge walls.

Both these extraordinary spaces are constructed to promote, or allow, a sense of quiet immersion in the ordinary, to quiet the mind and open up the unpredictable offering of every moment to new consideration.

Making field recordings is a form of meditative practice – listening attentively to whatever arises and passes. So this week's composition explores a strategy of suspending field recordings within a durational musical drone created with grains of the recordings stretched beyond recognition, pulled into a signifying realm of sonic solemnity.  Its a kind of homage to Suzuki and Turrell for gifting us their proposals – in thought, place and practice – that quietude is important.